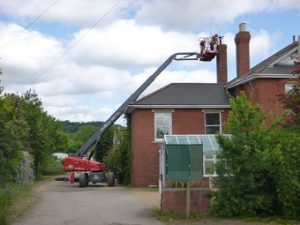 Job type:
Condensate Staining
Project Length:
1 day
Completed by:
Turner Baker
Initial Situation:
Heavy staining had started to appear in one of the first floor bedrooms. The owner of the property had already had the leadwork inspected with no problems found. Turner Baker Ltd undertook an inspection and determined the cause of the condensate was the flue from the oil boiler situated in the cellar of the property.
Project Challenge:
Access to the head of the chimney was not easily possible due to the position of the stack and the adjoining structures. In order to access the chimney stack Turner Baker Ltd arranged the hire and delivery of a Skyjack SJ66T access platform. This could be positioned away from the property and still give suitable safe access to the chimney. As the existing stainless steel liner had failed the client requested a more durable solution as a replacement.
Liner Chosen:
FuranFlex25 Black
Result:
A FuranFlex25 Black liner was recommended, which carries a 25 year guarantee. Once access was achieved the original stainless steel liner was removed and a new FuranFlex25 Black liner inserted within the flue cavity. The liner was then cured and the existing boiler reconnected to the flue.
Completed by:
Turner Baker