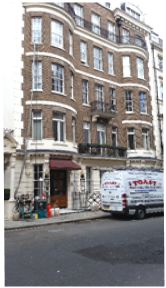 Job type:
DFE/Gas Open Fire
Project Length:
1 day
Completed by:
Toast
Initial Situation:
Open gas fire on the third floor of a Mayfair apartment was leaking into the fourth-floor apartment above.
Project Challenge:
The FuranFLEX25 RWV Red chimney liner had to be carried five floors to the roof and extra hose from the boiler to the fireplace had to be made due to the distance from the ground floor to the third-floor apartment. As the building was a busy apartment block, we had to avoid disrupting the other residents.
Liner Chosen:
FuranFLEX25 RWV Red
Result:
The job was carried out in just one day, with no disruption to the other apartments in the same building. After the soft, one-piece liner was lowered into the chimney duct, it was steamed in just a couple of hours. The FuranFlex technology does not require the opening up of chimney flues even for more complicated flue paths, as the soft liner moulds into the given flue shape and size. Due to the nature and value of these apartments, no mess was created during the install.
Completed by:
Toast