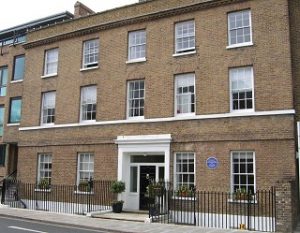 Diameter:
Ground floor: Right hand side of building 2 x 13
Project Length:
4 days
Completed by:
Flueliner Solutions
Initial Situation:
6 Furanflex25 liners for open gas fires were installed in Hogarth's House, a Grade 2 listed building, built in Richmond, in the mid 1700's.
Project Challenge:
To maintain the cross dimensional diameter of the flue due to the large fire opening sizes requested by the client to create adequate "draught" to enable its use without the requirement of fitting chimney fans.
Liner Chosen:
FuranFLEX 25 RWV Red
Result:
All 6 FuranFlex 25 liners were installed within 4 days, ahead of schedule and ready for the rendering of the firebacks and installation of their new fireplaces and appliances. Furanflex 25 fits to the contour of the chimney flue, maintaining the cross-sectional area of the flue and giving a smooth insulated lining to increase the efficiency of the chimney and without any disruption to the construction of the flue and meeting the grade 2 listed building requirements.
Completed by:
Flueliner Solutions