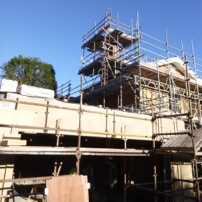 Job type:
Solid Fuel Open Fire Chimney
Project Length:
2 days
Completed by:
Turner Baker
Initial Situation:
The property was undergoing total renovation after being purchased by new owners in 2014. As part of this renovation the new owner wished to re-commission a number of fireplaces and open fire flues. Fireplaces in both the dining room and drawing room had not been used for a number of years and the client was unsure whether they were safe to use. A camera inspection and smoke test were undertaken.
Project Challenge:
This revealed that the flues were unlined and leaked in a number of places. Due to the sizes of the existing fireplaces and the brick flues it would not have been possible to fit circular stainless steel liners within the flue, and maintain the current open sizes of the fireplaces
Liner Chosen:
FuranFlex25 RWV
Result:
It was therefore agreed to install two FuranFlex25 RWV liners, sized to maintain the existing flue size. The FuranFlex25 RWV liners were installed over a period of two days, leaving both of the flues lined and safe to use. Also as the flue cross-sectional area was maintained the draw of the fireplaces were not affected.
Completed by:
Turner Baker