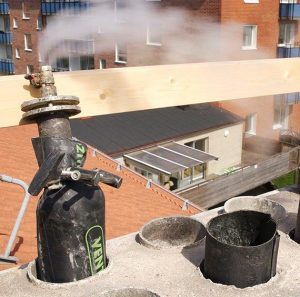 Job type:
Ventilation ducting
Length:
1600M
Diameter:
160mm
Project Length:
4 Months
Completed by:
Tegelhantverk i Stockholm
Initial Situation:
In Sundbyberg outside of Stockholm, Sweden, tenants in the Ekorren block were experiencing problems with cooking odors and the smell of smoke. It turned out that the walled ventilation channels were leaking and in need of renovation.
Project Challenge:
Complete the project without the tenants having to move out and retain the duct sizes
Liner Chosen:
VentilFlex25 Green
Result:
All tenants were able to remain in the building during the renovation process. Exhaust air fans were installed on the roof of the property. A fan on the ceiling at each stairwell was combined with traditional ventilating hoods in the apartments. Prior to the renovation, each apartment had its own fan. A major portion of the work could be conducted from the stairwell. The project with the fans and VentilFlex Green ran quickly and smoothly. The installers were able to spend less time in the apartments than other solutions would have allowed. It would have been messier if the installers had re-bricked the ducts or opted for another renovation method.
Completed by:
Tegelhantverk i Stockholm