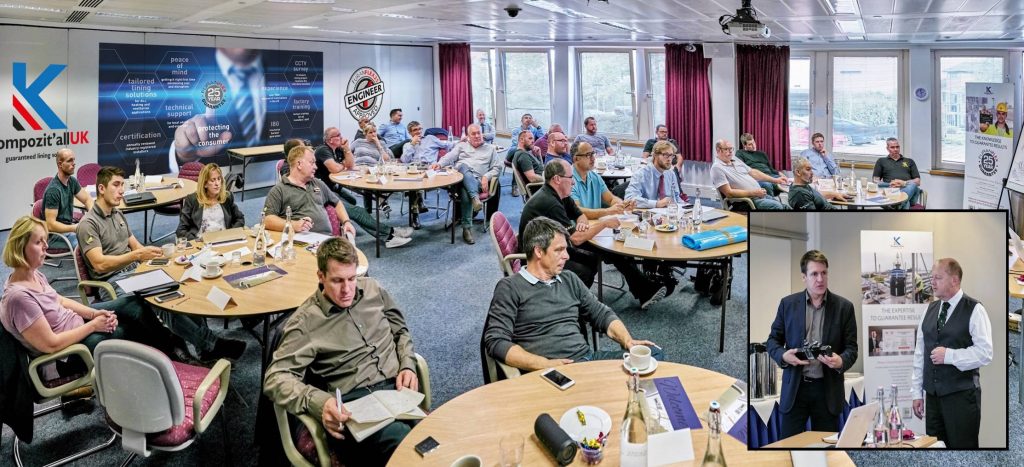 Kompozit'all UK and representatives from our nationwide network discuss technical advances following a 50% increase in sales volume.
The 7th Annual Partners' Exec Technical Briefing was attended by representatives from the manufacturer, Kompozitor, the UK distributor, Kompozit'all UK and the executives of the certified FuranFlex25 installation companies from across the UK and Ireland.
Kompozit'all UK was established in 2010 by Kompozitor Ltd, the Hungarian manufacturer of high strength, heat and fireproof composite materials, a new but proven technology for use in all chimney and duct lining. Since the beginning Kompozit'all UK installers have specialised in the restoration of chimney flues and ducts for all types of heating and ventilation applications, with over 7,000 successful installations of FuranFlex25 over the last 7 years.
The range of products, FuranFlex25 for heating and VentilFlex25 for ventilation, provides tailored solutions for each application but requires skilled up-to-date knowledge and training to ensure successful installation. This meeting served as the advance briefing before the annual re-certification for the 107 Kompozit'all UK approved installation engineers.
Over the years very varied lining challenges have been solved by the Kompozit'all UK partnership and their technical and installation teams, who worked together with their customers to deliver successful projects.
With its attention to detail and support through on-site assistance and a technical helpline, Kompozit'all UK commits to a fully comprehensive guarantee on FuranFlex25 for 25 years, including chimney and duct relining, and the customer is further protected by the availability of an optional 20 years insurance backed guarantee.